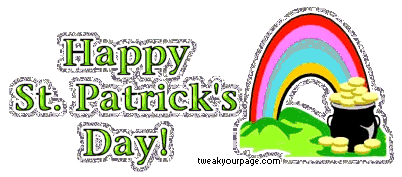 Whats up, friends?
I had a really boring weekend, it was lovely.
Now that my shoulder muscle is back in fine form (thanks to muscle relaxers and a LOT of relaxing!), I am ready to get this week started!
Today is St Patrick's Day.....wow, has March flown or what!?
Is anyone out there Irish? If not, how about just for today?!
I do have some Irish blood in me....1/8th to be exact (maternal great grandmother) but even if i didn't, I would surely be eating corned beef & cabbage for dinner tonight! (Never-mind that it is made by my Japanese MIL!)
Have a good one!